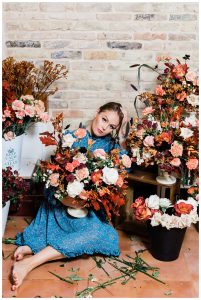 I am a floral designer and decorator located in Vilnius, Lithuania. My passion is a wedding decor. Creating not only naturally styled flowers but also getting in a proper style all your wedding details according to the wedding venue, wishes, budget, etc. I adore a combination of these magical words – Right Design of the Right Details on the Right Day – and truly believe in a power of it.
I will work with you to style your wedding venue, creating unforgettable completeness of all details that not only you but your guests will fall in love with.
I absolutely love to work with a wedding theme. If you want to organize amazing wedding decor, you should think about your favorite color, flower, things that drive you crazy. Only then miracles will happen. So what do you think about now?